This site is for those who remember the good times when United or Bally Bingo Pinballs could be played everywhere. The days for these beautiful electromechanical machines are long past maybe, but you can definitely revive playing them again. With next-best-than-the-real-thing Bingo Pinball simulations you'll hardly notice the difference...
Look and feel of original Bingo Pinball machines.
All sounds sampled from original Bingo's

Large, crisp graphics

Play on your Desktop Computer in Full Screen
Or use in a Virtual Cabinet
Serial USB interface to connect a real Cabinet.
Available for Windows and Mac OSX.
Curious about playing Bingo Pinballs? Peter Bergen made a cool introduction movie on YouTube

Bingo Gameroom version 3.2.b31
System requirements:
Windows 7, 8 or 10, graphics card required.
Mac OSX El Capitan (10.11.x) and higher.
Big Sur compatible.


Bingo Gameroom 3.2

You only need this program to download, play and update all available Bingo games

• Scroll through, select and play games
• Handles all Updates and new Releases

not available for unknown OS

Other platforms: Mac OSX Windows OS • Some help installing Bingo Gameroom.
• Read Bingo Gameroom's Guide for PinballX users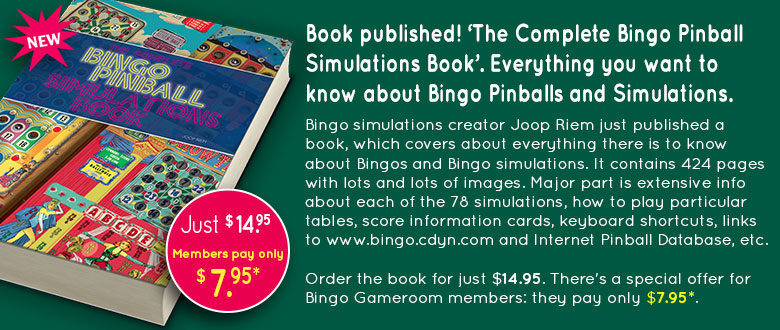 * Users are considered to be a member if they have a 12 months or longer recurring subscription, a Lifetime Membership or bought All Tables. Book is only available as PDF or EPUB at the moment. After ordering you will receive links to download the PDF or EPUB, whatever you prefer.
Book screenshots ...  Order the book
Complete list of available games
Watch demo
Pricing
Building my own Virtual Cabinet
For those who plan to build a real Cabinet
Bingo related links
Our privacy policy
Expected end of 2021:


Started with porting tables to iPad, perhaps Android as well in the future. It means complete rewriting the source for all 78 tables.
I've made some progress though. Preview